8 January 1536 – Who wore yellow?
Posted By Claire on January 8, 2016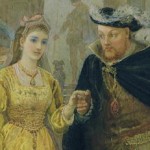 At this time of year, around the anniversary of Catherine of Aragon's death in 1536, I tend to receive emails and comments regarding Henry VIII and Anne Boleyn wearing yellow to celebrate Catherine of Aragon's death and the colour of yellow also being the colour of mourning on Spain. It's a topic that always comes up and it's an interesting one.
Last year, I wrote a detailed article about what the primary sources say about who wore what and when, and I also wrote about the myth that yellow is a colour of mourning. Click here to read that article now. I hope you find it useful and interesting.