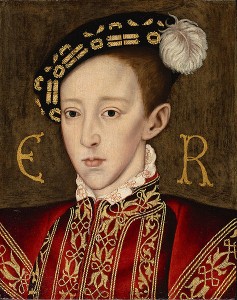 On this day in history, 8th August 1553, fifteen-year-old King Edward VI was laid to rest at Westminster Abbey.
The boy-king was buried in a white marble vault beneath the altar of Henry VII's Lady Chapel and his grave was left unmarked until a memorial stone was placed in front of the altar in 1966. The stone reads:
"IN MEMORY OF KING EDWARD VI BURIED IN THIS CHAPEL THIS STONE WAS PLACED HERE BY CHRIST'S HOSPITAL IN THANKSGIVING FOR THEIR FOUNDER 7 OCTOBER 1966."
Edward had died on 6th July 1553 but the struggle for the throne, between the heir he had appointed, Lady Jane Grey, and his half-sister, Mary, plus discussions between Mary I and her ministers over his funeral rites, had led to a delay in burial. It was finally decided that Edward would be buried with Protestant rites, the first use of the English Book of Common Prayer for the funeral of a monarch, and it was Thomas Cranmer, Archbishop of Canterbury, who performed the service. The Catholic Queen Mary I held a private mass at the Tower of London, instead, and ordered three days of Catholic requiem masses for his soul.