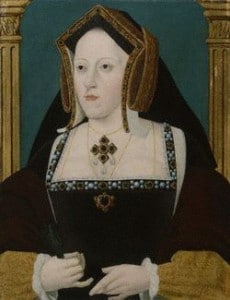 At two o'clock in the afternoon of the 7th January 1536, Henry VIII's first wife, Catherine of Aragon, died at Kimbolton Castle after taking communion and giving her last confession to her confessor Jorge de Athequa, Bishop of Llandaff. She slipped away whilst praying to her Father in Heaven.
Her death was not unexpected as Catherine had been ill for a few months and her condition had worsened the previous month after she had consumed some Welsh beer. This fact, combined with the embalmer's report of her blackened heart, caused the rumour mill to go mad with rumours that the Dowager Princess of Wales, as she was to be called, had been poisoned. Of course, these were just rumours and the embalmer was a candle-maker, not a medical expert! Catherine's biographer, Giles Tremlett, believes that it is more likely that she died of cancer.
You can read all the details about Catherine of Aragon's last days in my article "The Death of Catherine of Aragon".
RIP Catherine of Aragon, Queen of England.
Catherine of Aragon's Resting Place
Catherine of Aragon was laid to rest on the 29th January 1536 at Peterborough Abbey, which still stands today and is now known as Peterborough Cathedral. Although she was buried as the Dowager Princess of Wales, the Cathedral have marked her grave "Katharine Queen of England" and commemorate her death and burial, and celebrate her life, with a special programme of events known as the Katharine of Aragon Festival. This year's events include:-
Friday 27th January 10.30am – Katharine of Aragon Commemoration Service
Friday 27th January 5pm – Sung vespers featuring music from the Tudor period
Saturday 28th January 10am-3pm – Tudor Living History Day
Saturday 28th January 10am and 2pm – Cathedral Tower Tours
Saturday 28th January 10am and 2pm – Children's tours with 'Old Scarlett', the Cathedral's famous gravedigger
Saturday 28th January 7.30pm – Talk on Lady Margaret Beaufort by Stuart Orme of Peterborough Museum
Sunday 29th January 2pm – Tudor Walk of Peterborough guided by Stuart Orme
You can dowload the full programme of events at http://www.peterborough-cathedral.org.uk/tl_files/resources/Leaflet-KofA-2012.pdf