Posted By Claire on January 6, 2012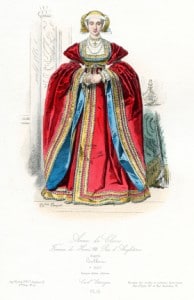 Yes, on this day in history, 6th January 1540, King Henry VIII married Anne of Cleves, full name Anna von Jülich-Kleve-Berg, in the Queen's Closet at Greenwich Palace.
According to the chronicler Edward Hall, Anne was dressed in a gown of cloth of gold "set full of large flowers of great & Orient Pearle" with a gold "coronal" decorate with precious stones and "set about full of braunces of rosemary", while the King wore "a gowne of ryche Tyssue [cloth of gold] lyned with Crymosyn". They sound quite the dashing couple, don't they?
You can read more about their wedding in my article "The Marriage of Henry VIII and Anne of Cleves" and the eventual end of their marriage in "Henry VIII Divorces Anne of Cleves". You can read more on Anne of Cleves in the following articles:-