Posted By Claire on October 12, 2021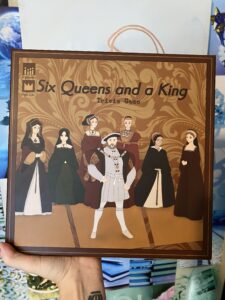 Thank you to Sara Michelle Horton for writing this article about a game she has designed on Henry VIII and his six wives. It sounds ideal for Tudor history lovers, don't you think? I hope we can help get this game produced!
Over to Sara Michelle…
I've loved the Tudors, and Anne Boleyn specifically, for years. I've devoured books (fiction and nonfiction), shows, movies, podcasts and fanfictions. I've also bought merchandise, shirts, posters and mugs. The only thing I could never find was a game. I would have loved to play a Tudor-themed game, but there never was a game that was exactly what I wanted. I was so excited when I found a game called Tudor. I jumped to buy it, thinking I had finally found a game about my favorite history period. While the game was fun, it was not what I was looking for. There was no trivia, and while the game takes place in a Tudor court, it does not have anything to do with a Tudor person or trivia. I wanted an interactive trivia game that would test my knowledge but also let me finally win a game against my best friend. (She wins at every game, every time.) So I decided to make one.
I knew I wanted this game to be a trivia game, so I started with trivia cards. Many facts I already knew (mostly about Anne Boleyn), but I also did some research to find interesting, lesser-known trivia to include on the cards. Once that was done, I started to brainstorm what kind of game board I wanted. I knew I didn't want every space filled, but that I did want some of them to have actions. I decided to have a court space and a space where you survived, and then for each queen to have four spaces dedicated to them, and the rest to be blank spaces.
I printed out all the spaces, and found a scrap piece of cardboard at work. I played around with the layout of the spaces and the shape of the board. I settled on the shape of a crown, which seemed fitting for the Tudors. For the next week, I thought of what kind of actions I wanted on the spaces and how they would pertain to each queen.
With the board and cards done, I decided to try and play it, to make sure it was playable. I found some different colored mini unicorn erasers and used those as the game pieces. A friend and I sat down to play. She didn't know anything about Henry VIII and his wives, so we played it like she was answering correctly when she wasn't. Even though she didn't understand any of the trivia, she said it was fun, and I agreed.
From there, I started researching manufacturers. It was way too early for that since I only had the rough handmade mock-up. I knew I needed an actual design, but I figured I needed to get a quote on how much it would be to make this game. While I waited for a response from the manufacturer, I called up my cousin.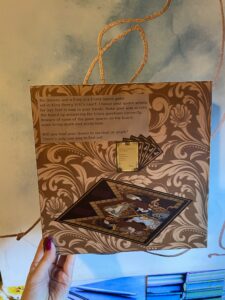 She is an artist, and I have always liked her artwork, so I reached out to her and asked if she wanted to help me with this project. Don't worry, I did pay her. The design work took longer than I had thought it would, just because there was more research needed and life kept getting in the way. While she was designing the game, I was talking to the two manufacturers I had contacted. One had a minimum order of 500 units and the others had a minimum of 1500 units. I chose to go with the manufacturer whose minimum was 500 units. I was uneasy with the idea of ordering a very large amount in case no one wanted to buy this game. The manufacturer gave me a quote for the 500 units, and I ordered 5 samples for a quality check.
With the quote ready, I did some more research, this time on prices of board games. The game that started it all, Tudor, sells for $70 on the Academy Games website and $56 on Amazon. I knew that I didn't want to sell it for that much. I wanted to make it as affordable as I could, while also making a profit. If my math was correct (which would be a shock), then $30 was the right price to settle on.
To give you an idea about this game, here is the rule sheet:
Pick your player. Choose from one of Henry VIII's six wives: Catherine of Aragon, Anne Boleyn, Jane Seymour, Anne of Cleves, Catherine Howard or Catherine Parr. All players start at the "Enter Court" space. Pick a trivia card, answer the question correctly, and roll the dice to determine how many spaces you move forward on the board. If you answered the trivia question incorrectly, you do not move.
Make sure that you do not forget what player you have chosen. Each queen has three spaces on the board detailing a positive or negative event in their life. If you land on a space that is dedicated to the player you chose, you must follow the action that the space dictates.
There are four spaces detailing how each queen died; if you land on the death space of your chosen player, then it's game over. The rest of the players must continue to play until there is a survivor or until all the players are knocked out.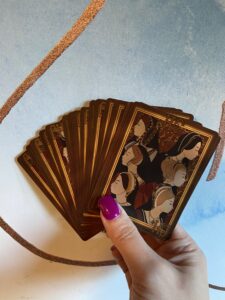 Are you intrigued?
If you are, here is the link to preorder the game https://horton-games.myshopify.com. In order to manufacture the 500 units, I must get at least 250 units preordered. That will enable me to break even on my investment in this game. The preorders will be for $30 plus the shipping costs. After the preorders are made, the remaining units will sell for $40 each plus shipping.
It ships all over the world.