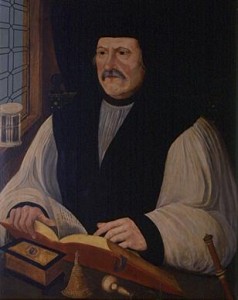 On this day in history, 6th August 1504, Matthew Parker, a man who served as chaplain to Queen Anne Boleyn and King Henry VIII, and as Archbishop of Canterbury to Queen Elizabeth I, was born in the parish of St Saviour, Norwich, East Anglia, to a worsted weaver and his wife.
His loyalty to his former patron, Anne Boleyn, led to him taking the office of Archbishop of Canterbury in her daughter Elizabeth's reign, even though he didn't want the job:
"Yea, if I had not been so much bound to the mother, I would not so soon have granted to serve the daughter in this place…"
He had made some kind of promise to Anne shortly before her execution and he was going keep it.
You can click here to read more about Parker's life and here to read more about what happened between him and Anne in her final days.