Posted By Claire on August 6, 2017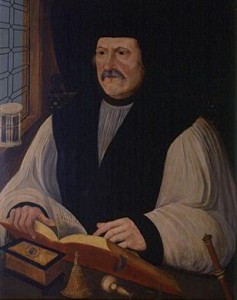 On this day in history, 6th August 1504, Matthew Parker, was born in the parish of St Saviour, Norwich, East Anglia. He was born the son of a worsted weaver but his destiny wasn't weaving, Parker was destined for the Church and for royal service too.
In around 1520, Parker began his studies at Corpus Christi College in Cambridge, graduating with a BA in 1525, and it was there that he met men interested in evangelical reform, like Thomas Bilney, who was martyred in 1531. Parker went on to do a Masters and was elected a fellow of the college in 1527. By this time, he was also a priest. After gaining a Bachelor of Theology and a doctorate, too, he was appointed as one of Queen Anne Boleyn's chaplains in 1535 and, after her execution, served as chaplain to King Henry VIII. It was Anne Boleyn's patronage which led to him being appointed dean of the Collegiate Church of Stoke by Clare, in Suffolk, in November 1535.