50% off online history courses and bonus live chats!
Posted By Claire on November 26, 2021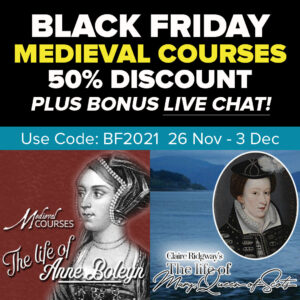 From today until 3 December, you can save 50% on the online history courses offered by MedievalCourses.com, which include mine on Anne Boleyn and Mary, Queen of Scots, and other excellent courses by Toni Mount, Gareth Russell and Samantha Morris.
As part of this offer, I will also be doing a 1-hour live chat with my course participants (new sign-ups and past customers) – I do love talking Tudor! The other experts will also be doing the same.
Simply use code BF2021. It's valid across all the courses and even the gift certificates.
Go to
https://medievalcourses.com/overview/ right now to browse the courses.
By the way, the courses are completely online and can be started/finished at any time.