5 September 1548 – Death of Catherine Parr, Queen Dowager
Posted By Claire on September 5, 2011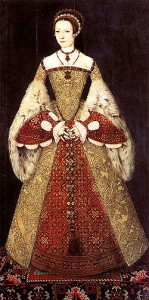 Today we remember a great lady and my second favourite of Henry VIII's wives, Queen Catherine Parr, for it was on this day in history, Wednesday 5th September 1548, between two and three o'clock in the morning, that she died of puerperal fever.
I find her death a real tragedy. Henry VIII's death in January 1547 had allowed her to finally be able to marry the man she had loved for many years, Thomas Seymour, and she had just given birth to their first child, a daughter, Mary. What is even more tragic is that her death resulted in Seymour losing complete control of himself and taking a course of action which would lead him to the scaffold in March 1549. I am sure that Catherine's love, her guiding hand and steadying influence would have prevented that from happening.
Within just over 6 months of her birth, Catherine's precious little girl, Mary Seymour, was left an orphan and it is thought that she died in early childhood.
RIP Queen Catherine Parr, a woman who was indeed "useful in all I do" and more.
You can read more about Catherine Parr's death in my article "The Death of Catherine Parr" and more about the woman she was and the queen she became in the following articles:-
You can find out more about Catherine Parr in the following articles:-
I've also written about Catherine Parr over at The Elizabeth Files:-