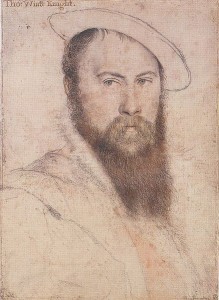 You may have heard that five men were executed on 17th May 1536 after being found guilty of high treason for sleeping with Queen Anne Boleyn and plotting with her to kill the King, but did you know that three other men were implicated in her fall?
These men were Anne's relative, Sir Francis Bryan; Sir Richard Page, a Gentleman of the Privy Chamber and a former favourite of Thomas Cromwell; and Sir Thomas Wyatt the Elder, the poet and courtier. Bryan was ordered to London for questioning but not imprisoned, but the other two were thrown in the Tower and were there by 5th May 1536 because they are mentioned as prisoners in a letter written that day by Sir William Kingston to Thomas Cromwell. They were both later released, probably sometime in June 1536, but it must have been quite a scare for them.
You can read more about the men and what happened to them in my article 5 May 1536 – More interrogations and Arrests
Also on this day in history, 5th May 1542, Agnes Tilney, Dowager Duchess of Norfolk, was pardoned after spending nearly five months imprisoned in the Tower of London following the fall of her step-granddaughter, Catherine Howard. Click here to read more.