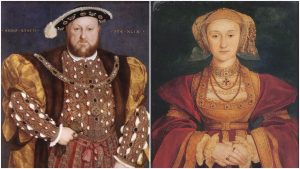 On this day in history, 4th October 1539, in London, the commissioners of King Henry VIII signed the treaty which arranged the marriage of the king and Anne of Cleves (Anna von Jülich-Kleve-Berg).
Anne's brother, William, Duke of Cleves, had signed the treaty on 4th September 1539 and then sent it to England with his ambassadors to be signed and ratified. You can click here to read about the terms of the treaty and to read a copy of it.
Anne left home to travel to England on 26th November 1539, travelling in a horse-drawn chariot. She reached Calais on 11th December but due to bad weather was unable to leave the port until 27th December. Anne landed at Deal at 5pm on 27th December and rested at Deal Castle before travelling on to Rochester and then on to Greenwich. She married the king on 6th January 1540 but the marriage was annulled in July 1540 and the king went on to marry Catherine Howard in the same month.
Here is a short video on Anne of Cleves:
You can read more about Anne of Cleves in the following articles: