12 October 1537 – A prince for Henry VIII and Jane Seymour
Posted By Claire on October 12, 2017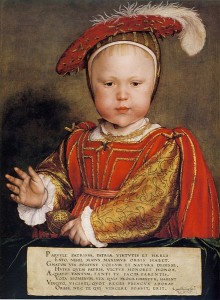 On this day in history, 12th October 1537, the eve of the Feast of St Edward the Confessor, an exhausted Queen Jane Seymour, third wife of King Henry VIII, gave birth to a little boy in her chamber at Hampton Court Palace. He was born at around two o'clock in the morning.
Chronicler Edward Hall recorded:
"In Octobre on saint Edwardes euen was borne at Hampton Courte the noble Impe prince Edward […]"
Charles Wriothesley wrote:
"And the morrow after, being Fridaie and the eaven of Sainct Edward, sometime King of Englande, at tow of the clocke in the morninge the Queene [was] delivered of a man chielde at Hampton Court beside Kingston."
Wriothesley goes on to say that a Te Deum was sung in every parish church in London, church bells rang throughout the city, bonfires were lit in every street, the city merchants gave out fruit and wine, German merchants gave wine and beer to the poor, and "a great peale of gonnes was shott at the Tower of London". It was a day of celebrations for the King and his people.
For the queen, the arrival of a healthy son after a long labour must have been an immense relief. A solemn procession had taken place on 11th October at St Paul's "to pray for the Queene that was then in laboure of chielde" because her labour was taking so long.
Letters announcing the birth had been prepared in the queen's name and under her signet, and were then sent to the Privy Council.
"Right trusty and well beloved, we greet you well. And forasmuch as, by the inestimable goodness and grace of Almighty God, we be delivered and brought in child-bed of a Prince, conceived in most lawful matrimony between my Lord the King's majesty, and us; – doubting not, but that for the love and affection you bear unto us, and to the commonwealth of this realm, this knowledge shall be joyous, and glad tidings unto you, we have thought good to certify you of this same: to the intent ye might not only render unto God condign thanks and praise for so great a benefit, but also continually pray for the long continuance and preservation of the same here in this life, to the honour of God, joy and pleasure of my Lord the King and us, and the universal weal, quiet, and tranquillity of this whole realm.
Given under our signet, at my Lord's manor of Hampton Court, the twelfth day of October."
The new prince was christened three days later in the Chapel Royal at Hampton Court Palace. He was baptised "Edward". Jane was well enough to receive visitors after the christening but by 18th October she was seriously ill. Jane died on 24th October 1537. Her son became King Edward VI on 28th January 1547, following the death of his father.
Contrary to myth, Jane Seymour did not die as the result of a caesarean (C-section) – click here to read more about this myth.
Notes and Sources
Hall, Edward. Hall's chronicle : containing the history of England, during the reign of Henry the Fourth, and the succeeding monarchs, to the end of the reign of Henry the Eighth, in which are particularly described the manners and customs of those periods. Carefully collated with the editions of 1548 and 1550, p. 825.
Wriothesley, Charles. A chronicle of England during the reigns of the Tudors, from A.D. 1485 to 1559 (1875 edition), p65-67
Heylyn, Peter (1600-1662) Ecclesia restaurata; or, The history of the Reformation of the Church of England, Volume I (1849), p14