Posted By Claire on August 4, 2013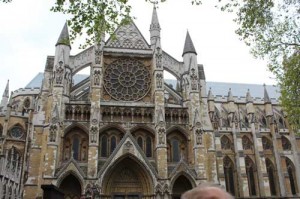 On 4th August 1557 merchant-taylor and diarist Henry Machyn recorded that there was a requiem mass for "my lady prenses of Cleyff" with a "godly sermon" by the Lord Abbot of Westminster. Her coffin was then taken to her tomb and her body interred with the cloth-of-gold laid over her. Then, her head officers broke their staves and her ushers broke their rods and cast them into her tomb. After another mass, there was a dinner led by the chief mourner, Lady Winchester, the Lord Admiral and Lord Darcy.
Anne of Cleves is the only one of Henry VIII's wives to be buried at Westminster Abbey and her tomb is on the south side of the High Altar. It is decorated with carvings of a crown and her initials, AC, skulls and crossed bones, and a lion's head.
Here is Machyn's record of the funeral:
"The iiij day of August was the masse of requiem for my lade prenses of Cleyff, and dowther to [William] duke of Cleyff; and ther my lord abbott of Westmynster mad a godly sermon as ever was mad, and [then] . . . the byshope of London song masse in ys myter; [and after] masse my lord byshope and my lord abbott mytered dyd [cense] the corsse; and afterward she was caried to her tomb, [where] she leys with a herse-cloth of gold, the wyche lyys [over her]; and ther alle her hed offesers brake ther stayffes, [and all] her hussears brake ther rodes, and all they cast them in-to her tombe; the wyche was covered her co[rps] with blake, and all the lordes and lades and knyghtes and gentyllmen and gentell-women dyd offer, and after masse agrett [dinner] at my lord (abbat's); and my lade of Wynchester was the cheyff [mourner,] and my lord admeroll and my lord Darce whent of ether syde of my lade of Wynchester, and so they whent in order to dinner."
Sources
ed. Nichols, J.G. (1848) The Diary of Henry Machyn: Citizen and Merchant-Taylor of London (1550-1563), p141-162
Also on this day in history…
1540 – Brother William Horne, laybrother of the London Charterhouse was hanged, disembowelled and quartered at Tyburn. Horne was the last of the Carthusian martyrs to be killed after eighteen members of the Carthusian order of monks based at the London Charterhouse were condemned to death in 1535 for refusing to accept King Henry VIII as the Supreme Head of the Church. You can read more about him in my article 4 August 1540 – The Execution of Blessed William Horne, Carthusian Martyr
1598 – William Cecil, 1st Baron Burghley, died at his home in London aged seventy-six. He was laid to rest at St Martin's Church, Stamford, in his home county of Lincolnshire. See William Cecil, 1st Baron Burghley