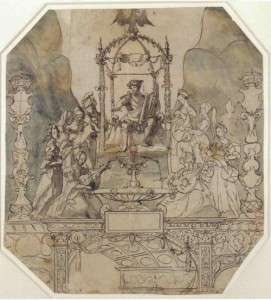 On this day in 1533, at 5pm, Anne Boleyn left the Tower of London in a procession which took her from the Tower, through the streets of London, to Westminster Hall.
I wrote a detailed article about the route and its lavish spectacles last year – see 31 May 1533 – The Coronation Procession of Queen Anne Boleyn.
A procession, pageants, wine flowing from fountains, entertainment… what a day it must have been for Londoners!
You can also read an article on Anne's coronation procession by Nasim Tadghighi, who walked the procession's route in London and took photos – click here.
On this day in history…
1443 – Lady Margaret Beaufort, Countess of Richmond and Derby, and matriarch of the Tudor dynasty, was born at Bletsoe Castle in Bedfordshire. You can read all about her in the article I wrote to commemorate her death – see Lady Margaret Beaufort.