30 March 1533 – Thomas Cranmer is consecrated as Archbishop of Canterbury
Posted By Claire on March 30, 2017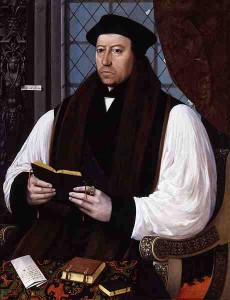 On this day in history, 30th March 1533, at the Passion Sunday service, Thomas Cranmer, Archdeacon of Taunton, was consecrated as Archbishop of Canterbury by the Bishops of Lincoln, Exeter, and St Asaph at St Stephen's College, Westminster Palace.
Cranmer's predecessor, William Warham, had died on 22nd August 1532. Cranmer was Archbishop of Canterbury until December 1555 when Papal sentence was passed on him, depriving him of his archbishopric "and of all ecclesiastical dignities" and giving permission to the secular authorities in England to decide on his fate. He had been tried for heresy. He was burnt at the stake on 21st March 1556. Cardinal Reginald Pole replaced him as Archbishop of Canterbury on 22nd March 1556.
Also on this day in history, 30th March 1558, Queen Mary I made her will, believing that she would soon give birth, and childbirth was a risky process – click here to read more.