3 July 1533 – Catherine, stop calling yourself queen!
Posted By Claire on July 3, 2016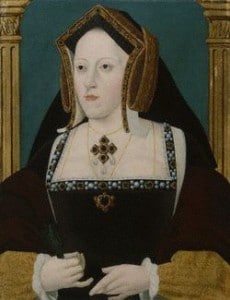 Well, that's what Thomas Cromwell's instructions to William Blount, 4th Baron Mountjoy and Catherine of Aragon's Chamberlain, on this day in 1533 amounted to. King Henry VIII was now married to Anne Boleyn, and so had a new queen consort, and "As the King cannot have two wives he cannot permit the Dowager to persist in calling herself by the name of Queen, especially considering how benignantly and honorably she has been treated in the realm." Catherine was to stop using the title of "queen" and, instead, was "to satisfy herself with the name of Dowager".
But Catherine believed that she was still married to Henry VIII, she had made her vows before God, and even though the king had set her aside she was not going to relinquish either her title or her marriage. Catherine refused to comply with the instructions passed on to her, that was that.
You can read Cromwell's letter to Mountjoy and an account of what happened when Mountjoy delivered these instructions to Catherine in my article 3 July 1533 – Catherine of Aragon Told to Stop Calling Herself Queen.