29th November 1530 – Death of Cardinal Wolsey
Posted By Claire on November 29, 2011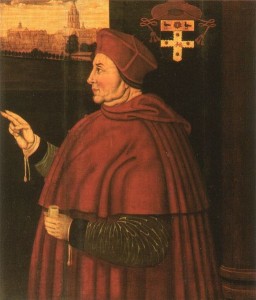 At around 8am on the 29th November 1530, Cardinal Thomas Wolsey died at Leicester Abbey. He had left his home of Cawood Castle on the 6th November after the Earl of Northumberland and William Walsh had taken him into custody on the 4th November for high treason.
Wolsey travelled from Cawood to Pontefract and Doncaster and then to Sheffield Park, home of the Earl of Shrewsbury, on the 8th. Wolsey's journey was then delayed due to the onset of dysentery and he did not leave Sheffield until the 24th, two days after the arrival of Sir William Kingston, Constable of the Tower of London, who had been sent to escort Wolsey to the Tower. Those of us who visited Sheffield Manor Lodge on The Executed Queens Tour this year were shown the ruins of Wolsey's privy, where he was said to have suffered from dysentery!
On the 24th November, Wolsey was well enough to travel from Sheffield to Hardwick Hall and then on to Nottingham on the 25th. However, by the 26th, he had obviously gone down hill again and George Cavendish, his gentleman usher, records how on arrival at Leicester Abbey Wolsey said "Father abbott I ame come hether to leave my bones among you". Wolsey never left Leicester. On the morning of the 29th November 1530 after making his last confession he said his famous words:-
"I se the matter ayenst me howe it is framed, But if I had served god as dyligently as I have don the kyng he wold not have geven me over in my grey heares"
and told Kingston to advise the King to act against the new Lutheran heresy before it took hold in England. Wolsey then lapsed into unconsciousness and the abbot performed the last rites. He died at around 8am and his body was then laid out in his pontifical robes for people to see before he was buried at the Abbey, where he still rests today.
Historian J J Scarisbrick writes of how Wolsey's death en route to the Tower of London had "cheated his master of the final reckoning" and that is very true. Wolsey cheated the axeman, the King and the men who had conspired against him and, instead, died a peaceful death in a house of God. He was denied the black marble sarcophagus he'd commissioned from Benedetto da Rovezzano, this was taken by the King but never actually used and it is actually Lord Nelson who was laid to rest in that tomb in St Paul's Cathedral after his death in the Battle of Trafalgar in 1805. Click here to see a photo of this tomb in the crypt of St Paul's Cathedral.
You can read more about Cardinal Thomas Wolsey in the following articles:-
Notes and Sources
'Wolsey, Thomas (1470/71–1530)', Sybil M. Jack, Oxford Dictionary of National Biography, Oxford University Press, 2004
The Life and Death of Cardinal Wolsey, George Cavendish
Henry VIII, J J Scarisbrick, p316