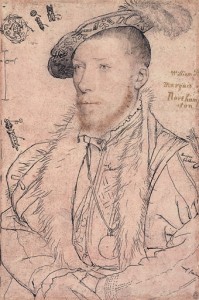 On this day in history, 28th October…
1532 – The last full day of Henry VIII and Anne Boleyn's time with Francis I in Calais. This included a chapter of the Order of the Garter and a wrestling match which saw the English Cornish wrestlers beat the French side. This time, Henry VIII refrained from challenging the French king to a wrestling match!
1571 – Death of William Parr, Marquess of Northampton and brother of Queen Catherine Parr, at Thomas Fisher's house in Warwick. He had been suffering from severe gout. Parr was laid to rest on 5th December in St Mary's Church, Warwick.
Notes and Sources
"The Life and Death of Anne Boleyn", Eric Ives, p160
"William Parr" by Susan E James in the Oxford Dictionary of National Biography