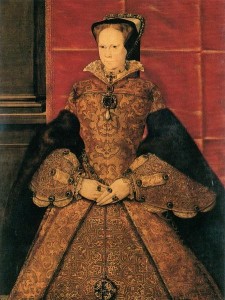 On 28th September 1553, Mary I, daughter of Henry VIII and his first wife Catherine of Aragon, travelled in a decorated barge to the Tower of London to prepare for her coronation. She was accompanied by her half-sister Elizabeth and as they pulled up to Tower Wharf, they were greeted by music and cannons firing.
The chronicle of Queen Jane, and of two years of Queen Mary, and especially of the rebellion of Sir Thomas Wyat, written by a resident in the Tower of London recorded:
"Note, that the xxvij. of September, the quenes majestye cam to the Tower by water towarde hir coronatione, and with hir the lady Elizabeth hir sister, with diverse other ladyes of name, and the hole counsayll. The lord Paiget bare the sworde before hir that daye. Before hir aryvall was shott of a peale of gonnes."
It was traditional for monarchs to go to the Tower before their coronations and process from there to Westminster, and it was also traditional for Knights of the Bath to be created before a monarch's coronation. Mary created fifteen Knights of the Bath on 29th September, and these knights included Thomas Howard, Earl of Surrey; Edward Courtenay, Earl of Devon, and William Dormer. As the ceremony consisted of the monarch dubbing the Knights when they were naked, in their baths, the Earl of Arundel had to stand in for Mary.
Mary left the Tower on her coronation procession on the 30th September 1553.
Also on this day in history…
1599 – Robert Devereux, 2nd Earl of Essex, strode into Elizabeth I's bedchamber unannounced and saw the Queen without her makeup or wig, without her "mask of youth".