Posted By Claire on June 28, 2017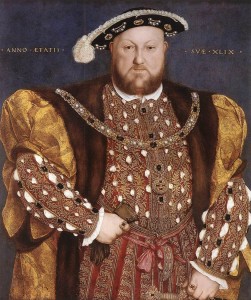 Yes, today is the 526th anniversary of King Henry VIII's birth on 28th June 1491. Although he died at the age of 55, he is still remembered 526 years after his birth. I wonder what he'd think about that. He's still an iconic figure, he's still being featured on TV, in movies, in fiction, in non-fiction, in blog articles, in art… you name it, he's everywhere! He's immortal really, don't you think?
Henry VIII was born at the Palace of Placentia (Greenwich Palace) and was the third child of King Henry VII, founder of the Tudor dynasty, and his wife, Elizabeth of York. His brother Arthur had been born in September 1486 and his sister Margaret had been born in November 1489. Little Henry was baptised at the Church of the Observant Friars, Greenwich, by Richard Foxe, Bishop of Exeter and Lord Privy Seal.