27th April 1536 – Writs Issued for Parliament
Posted By Claire on April 27, 2011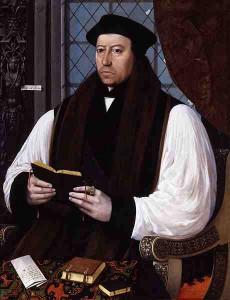 Today we bring you breaking news from the court of King Henry VIII. We have just heard that on this day, 27th April in the 28th year of the reign of our sovereign Henry VIII, writs have been issued summoning Parliament and one of our court insiders has intercepted a letter to Thomas Cranmer, Archbishop of Canterbury, asking him to attend Parliament on the 8th June.
This is hot news and it is worrying news. The Reformation Parliament was only dissolved a fortnight ago so there is obviously some emergency.
Our roving reporter, Sir Tim Ridgway, has access to Letters and Papers and has provided us with the following as proof of this news:-
"Summons to the archbishop of Canterbury to attend the Parliament which is to meet at Westminster, 8 June; and to warn the prior and chapter of his cathedral and the clergy of his province to be present, the former in person and the latter by two proctors. Westm., 27 April 28 Hen. VIII.

ii. Similar writs to the different bishops, abbots, and lords; to the judges, serjeants-at-law, and the King's attorney, to give counsel; to the sheriffs to elect knights of the shires, citizens, and burgesses; also to the chancellor of the county palatine of Lancaster; to the deputy and council of Calais to elect one burgess, and to the mayor and burgesses to elect another."
While these writs are being issued, Thomas Cromwell is still holed up in his office with Dr Richard Sampson, an expert on canon law. Very odd.

You can read more about this event and the opinions of various historians at 27th and 28th April 1536
Sources