Posted By Claire on May 27, 2016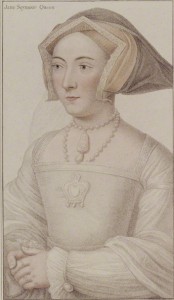 On 27 May 1537, chronicler and Windsor Herald Charles Wriothesley recorded the celebrations following the news of "the Queenes quickninge of childe", i.e. Queen Jane Seymour feeling her baby move in her womb for the first time:
"Alsoe, the 27th daye of Maye 1537, being Trynytie Sondaye, there was Te Deum sounge in Powles for joye of the Queenes quickninge of childe, my Lord Chaunseler, Lord Privaye Seale, with diverse other Lordes and Bishopps, beinge then present; the Mayre and Aldermen with the beste craftes of the cyttye beinge there in their lyveryes, all gevinge laude and prayse to God for joye of the same, wher the Bishopp of Worcester, called Docter Latymer, made an oration afore all the Lordes and Commons, after Te Deum was songe, shewinge the cause of their assemblye, which oration was mervelouse fruitefull to the hearers; and alsoe the same night was diverse greate fyers made in London, and a hogeshead of wyne at everye fyer for poore people to drinke as longe as yt woulde laste; I praye Jesue, and it be his will, send us a Prince."
The celebrations didn't only happen in London, we know from records that there were also celebrations in Oxford, York, Guines and Calais.
Also on this day in history, 27th May 1541, Margaret Pole, 8th Countess of Salisbury, was executed at the Tower of London. Click here to read more about her and her execution.