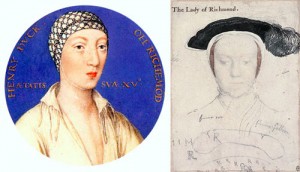 On the 26th November 1533, Henry Fitzroy, the Duke of Richmond and Somerset, married Lady Mary Howard at Hampton Court Palace.
Richmond was the illegitimate son of Henry VIII, by his mistress Elizabeth Blount, and Mary was the daughter of Thomas Howard, 3rd Duke of Norfolk, and his second wife, Elizabeth Stafford. The bride and groom were both aged fourteen and the marriage was a political match. Mary was the cousin of Anne Boleyn, who had become queen that year, and was also one of her ladies, and although it is not known who arranged the match Mary's mother blamed Anne for it. The Duchess of Norfolk had apparently been keen on another match for Mary, marriage to the recently widowed Earl of Derby, but Anne Boleyn had opposed it.1
The couple did not live together after their marriage. Beverley Murphy writes of how "indulging in sexual intercourse before the body was physically mature was believed to be dangerous to the health of both partners" and that it was said that Crown Prince Juan, brother of Catherine of Aragon, had died because he had consummated his marriage to Margaret of Savoy "with rather more fervour than his adolescent body could stand."2 Henry VIII did not want to risk the life of his only son. Unfortunately, Richmond still died young, dying in July 1536.
You can read more about Richmond and his wife in my article "Henry Fitzroy Marries Mary Howard".
Notes and Sources
Calendar of State Papers, Spain, Volume 4: Part 1, Henry VIII, 1529-1530, 762.
Bastard Prince: Henry VIII's Lost Son, Beverley A. Murphy, Chapter 4