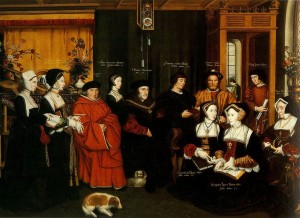 On this day in history, 26th June 1535, a new commision of oyer and terminer was appointed for the county of Middlesex. The commission ordered the Sheriff of Middlesex to gather the Grand Jury on the 28th June at Westminster Hall.
"Oyer and terminer" comes from the French "to hear and to determine" and denotes a legal commission formed to investigate and prosecute serious criminal offences, such as treason, committed in a particular county. A grand jury in the county would first investigate the alleged offence and then approve a bill of indictment, if there was sufficient evidence. The case would then go on to the commission of oyer and terminer, the court with jurisdiction to try the offence(s). In this case, the alleged offences had been committed by Sir Thomas More, Henry VIII's former Lord Chancellor, who, according to the indictment, had been "traitorously attempting to deprive the King of his title of Supreme Head of the Church". The indictment went on to give details of how, when More was examined by the King's councillors, on 7th May, regarding whether he would accept Henry VIII as supreme head, he "refused to give a direct answer […]" saying "I will not meddle with any such matters, for I am fully determined to serve God, and to think upon His Passion and my passage out of this world."1
When he was examined again on 3rd June, he "maliciously persevered in refusing to give a direct answer, and, imagining to move sedition and hatred against the King, said to the King's councillors, 'The law and statute whereby the King is made Supreme Head as is aforesaid be like a sword with two edges; for if a man say that the same laws be good then it is dangerous to the soul, and if he say contrary to the said statute then it is death to the body. Wherefore I will make thereunto none other answer, because I will not be occasion of the shorting of my life.'"2
On 12th June, Richard Rich visited More "and charitably moved him to comply with the Acts", but More allegedly told him that subjects could not be forced by an act of Parliament to recognise the King as Supreme Head:
"…a King can be made by Parliament, and deprived by Parliament; to which Act every subject being at the Parliament may give his assent; but as to the primacy, a subject cannot be bound, because he cannot give his consent to that in Parliament; and although the King is so accepted in England, yet many foreign countries do not affirm the same."3
The trial was set for 1st July 1535 with "Sir Thos. Audeley, chancellor; Thos. duke of Norfolk; Charles duke of Suffolk; Hen. earl of Cumberland; Thos. earl of Wiltshire; Geo. earl of Huntingdon; Hen. lord Montague; Geo. lord Rocheford; Andrew lord Windsor; Thos. Crumwell, secretary; Sir Will. Fitzwilliam; Sir Will. Paulet; Sir John Fitzjames; Sir John Baldewyn; Sir Ric. Lister; Sir John Porte; Sir John Spelman; Sir Walter Luke; and Sir Ant. Fitzherbert" all chosen to sit on the special commission of oyer and terminer.4
(Based on an extract from On This Day in Tudor History by Claire Ridgway)
Notes and Sources
Letters and Papers, Foreign and Domestic, Henry VIII, Volume VIII: 974 vi.
Ibid.
Ibid.
Ibid., 974 i.
Picture: Painting by Rowland Lockey after Hans Holbein the Younger, The Family of Sir Thomas More, c. 1594.