26 April 1536 – Anne Boleyn Meets with Matthew Parker, Her Chaplain
Posted By Claire on April 26, 2013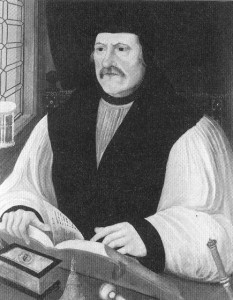 Around 26th April 1536 Anne Boleyn met with one of her chaplains, her "countryman" Matthew Parker. We do not know what was said at this meeting, but from letters written by Matthew Parker in Elizabeth I's reign we can infer that Anne asked Parker to watch over her daughter, the two year-old Princess Elizabeth, if anything happened to her. It appears that Anne was entrusting him with her daughter's spiritual care.
So what evidence do we have for this?
We have two letters written by Matthew Parker, one in March 1559 to Sir Nicholas Bacon and another written in 1572 to Lord Burghley. In the first letter, Parker refers to Elizabeth I wanting him to serve her as her Archbishop of Canterbury. Parker is unwilling, referring to his ill health, which was caused by a fall from a horse when "flying in a night"1 during Mary I's reign. However, he also refers to his duty to serve his Queen "not forgetting what words her grace's mother said to me of her, not six days before her apprehension".2 In his 1572 letter, he writes to Lord Burghley saying that he would never have agreed to serve Elizabeth I if he had not felt such a duty to Anne:
"Yea, if I had not been so much bound to the mother, I would not so soon have granted to serve the daughter in this place."3
Historian Eric Ives wrote of Anne's meeting with Parker:
"… less than six days before her arrest, Anne seems to have laid a particular responsibility on him to watch over her daughter. That charge, and the debt he felt he owed to Anne, stayed with him for the rest of his life."4
He put aside his doubts and his health concerns to serve Elizabeth I as Archbishop because of his duty to her and her mother. He was Archbishop of Canterbury from 1559 until his death in May 1575.
Interestingly, Parker was a member of an influential group of men who were responsible for Elizabeth's education and aiding in her subsequent rise to power. You can read more about these men and their influence in Robert Parry's article The Cambridge Connections.
What do you think about this meeting? Do you think that Anne was aware of what was going on and that she was taking precautions and protecting her daughter's future, or do you think that it's just a coincidence?
Matthew Parker's Correspondence can be downloaded for free at Google Books
Notes and Sources
Parker, Matthew The Correspondence of Matthew Parker, D.D., Archbishop of Canterbury:
Comprising Letters Written by and to Him, from A.D. 1535, to His Death, A.D. 1575 (edited for the Parker Society by John Bruce, and Thomas Thomason Perowne, 1853), p59
Ibid.
Ibid., p391
Ives, Eric (2004) The Life and Death of Anne Boleyn, Blackwell Publishing, p267