Posted By Claire on June 25, 2016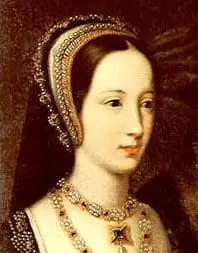 On 25th June 1533, thirty-seven year-old Mary Tudor, sister of Henry VIII and wife of his friend Charles Brandon, Duke of Suffolk, died at her home of Westhorpe Hall in Suffolk. She was survived by Suffolk, who was her second husband, and their children: Frances, Eleanor and Henry, although Henry died in March 1534. Suffolk remarried just three months later, marrying his ward, Katherine Willoughby, who had been betrothed to his son Henry.
It is not known what killed Mary and theories include angina, tuberculosis and cancer. She was buried first at the local abbey in Bury St Edmunds, Suffolk, but when the abbey was dissolved her remains were moved to St Mary's Church, Bury St Edmunds. As Sarah Bryson points out in her article on Mary over at the Tudor Society, her funeral was befitting of her rank as dowager queen of France and sister of the king, and was a very lavish affair. Click here to read all the details.