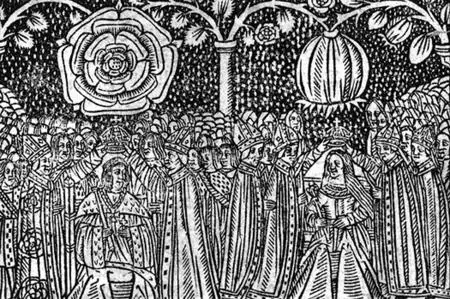 Following his accession to the throne on 21st April and his marriage to Catherine of Aragon on 11th June, Henry VIII and his new bride were crowned King and Queen at Westminster Abbey on 24th June 1509, Midsummer's Day and the feast day of St John the Baptist.
At 8am, the King and Queen processed from the Palace of Westminster to Westminster Abbey under canopies held by the barons of the Cinques Ports. When they entered the abbey, William Warham, Archbishop of Canterbury, presented Henry to the people who cried out "Vivat, vivat rex!" (Long Live the King!" four times. When asked if they would "receive, obey and take" Henry as their King, the people all cried "Yeh! Yeh!". The King swore the nine oaths of kingship and was then anointed with holy oils and crowned. His consort was then crowned Queen of England and the royal party processed back to Westminster Hall for the coronation banquet. The feast was opened with a fanfare of trumpets and a special procession of dishes, led by the Duke of Buckingham and the Lord Steward, both on horseback.
The midsummer coronation celebrations did not stop there. It was followed by a special tournament and then two days of merriment, jousting and feasting. England had a new King and Queen, and, as Thomas Penn put it in the recent programme on Henry VII, it was a new spring following a winter of repression. There was hope. In his epigram, "Coronation Ode of King Henry VIII", Thomas More wrote of England's hope and joy: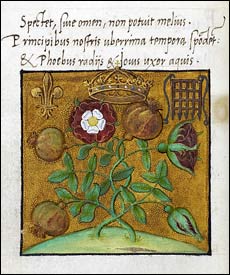 "If ever there was a day, England, if ever there was
a time for you to give thanks to those above,
this is that happy day, one to be marked with a pure
white stone and put in your calendar.
This day is the [end] of our slavery, the beginning of
our freedom, the end of sadness, the source of joy,
for this day consecrates a young man who is the everlast-
ing glory of our time and makes him your king-
a king who is worthy not merely to govern a single
people but singly to rule the whole world-
such a king as will wipe the tears from every eye
and put joy in the place of our long distress.
Every heart smiles to see its cares dispelled, as the day
Shines bright when clouds are scattered.
Now the people, freed, run before their king with bright
faces. Their joy is almost beyond their own
comprehension.
They rejoice, they exult, they leap for joy and celebrate
their having such a king. "The King" is all that any
mouth can say."
More went on to describe the seventeen year-old King:
"Among a thousand noble companions he stands out taller
than any. And he has strength worthy of his regal
person.
His hand, too, is as skilled as his heart is brave, whether
there is an issue to be settled by the naked sword,
or an eager charge with leveled lances, or an arrow
aimed to strike a target.
There is fiery power in his eyes, [Venus] in his face, and
such color in his cheeks as is typical of twin roses.
In fact, that face, admirable for its animated strength,
could belong to either a young girl or a man."
and his bride:
"She it is who could vanquish the ancient Sabine women
in devotion, and in dignity the holy, half-divine
heroines of Greece.
She could equal the unselfish love of Alcestis or, in her
unfailing judgment, outdo Tanaquil.
In her expression, in her countenance, there is a remark-
able beauty uniquely appropriate for one so great and
good.
The well-spoken Cornelia would yield to her in elo-
quence; she is like Penelope in loyalty to a husband."
You can read all about the lead-up to the coronation, with the procession from the Tower of London to Westminster, in my article 24 June 1509 – Coronation of Henry VIII and Catherine of Aragon.
You may also be interested in reading the poet Stephen Hawes' "A Joyfull Medytacyon to All Englande of the coronacyon of our moost naturall soverayne lorde kynge henry the eyght" which was written in celebration of Henry VIII's coronation. It can be read online at archive.org.
Also on this day in history…
1532 or 1533 – Birth of Robert Dudley, Earl of Leicester and favourite of Elizabeth I. Dudley was the fifth son of John Dudley, Duke of Northumberland, and his wife, Jane. Dudley served Elizabeth I as Privy Councillor and Governor-General of the Netherlands. See 24 June – Birth of Robert Dudley, Earl of Leicester.
Notes and Sources
Halls Chronicle, Edward Hall, p507-510
Coronation Ode of King Henry VIII, Epigram 19, by Thomas More
Second image taken from a page of Thomas More's "Coronation Suite", a collection of poems in Latin written especially for Henry VIII's coronation. This manuscript can be found in the British Library.