24 April 1536 – The legal machinery begins – The Fall of Anne Boleyn
Posted By Claire on April 24, 2019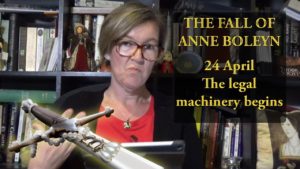 As promised, here is the first video in my "The Fall of Anne Boleyn" video series for the Anne Boleyn Files and Tudor Society YouTube channel.
I'll be doing these every day, up to an including 19th May.
On this day in 1536, Sir Thomas Audley, Lord Chancellor to King Henry VIII, set up two commissions of oyer and terminer, one for the county of Middlesex and one for the county of Kent.
What were these commissions and what did they have to do with the fall of Anne Boleyn, if anything?
Find out in today's video:
If you prefer articles to videos, you can read my article from a few years ago – click here.
If you're interested in my book The Fall of Anne Boleyn: A Countdown then you can find out more at http://getbook.at/fallanneboleyn