Posted By Claire on April 24, 2016
.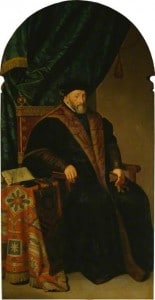 On 24th April 1536, six days before the first arrest in the fall of Anne Boleyn, two commissions of oyer and terminer were set up by Sir Thomas Audley, Henry VIII's Lord Chancellor, for the counties of Middlesex and Kent.
'Oyer and terminer' comes from the French 'to hear and to determine' and denotes a legal commission formed to investigate and prosecute serious criminal offences committed in a particular county. Crimes covered included misprision, treason, rebellion, felonies, murder, homicide, rioting, plotting, insurrection, extortion, oppression, contempt, concealment, ignorance, negligence, falsities, deception, conspiracy and being an accessory to these crimes. It is not known whether they were set up specifically to try the men who would later be charged with committing adultery with Queen Anne Boleyn and plotting to kill the king, but they were used for that purpose.
Click here to read more