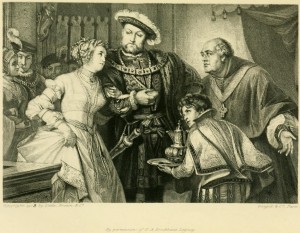 On the very same day that the Pope pronounced sentence on Henry VIII's marriage to Catherine of Aragon, ruling in Catherine's favour and pronouncing it valid, Parliament in England passed the First Act of Succession declaring the validity of Henry VIII's marriage to Anne Boleyn and recognising the rights of their issue to inherit the throne. While Rome deemed Princess Elizabeth as illegitimate, Parliament vested the succession in the heirs of Henry and Anne Boleyn.
The Act required subjects to swear an oath, the Oath of Succession, renouncing any foreign authority and recognising Anne Boleyn as Henry VIII's wife and their children as legitimate heirs to the succession.
You can read more about the provisions of this act in my article The First Act of Succession.
Also on this day in history…
1540 – The Dissolution of Waltham Abbey, the last abbey to be dissolved by Henry VIII.