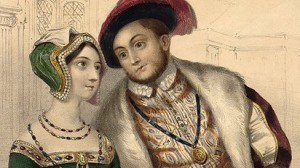 On this day in 1534, the First Act of Succession was passed by Parliament. It vested the succession in the heirs of Henry VIII and his second wife, Anne Boleyn, and it required subjects to swear an oath, the Oath of Succession, renouncing any foreign authority and recognising Anne Boleyn as Henry VIII's wife and their children as legitimate heirs to the succession.
You can read more about the provisions of this act in my article The First Act of Succession.
The Parliament that passed this act sat from October 1529 to 1536 and has become known as the Reformation Parliament due to the fact that it passed the main pieces of legislation which led to the English Reformation.