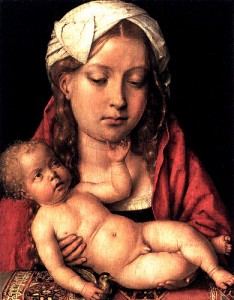 Tragedy struck Catherine of Aragon and Henry VIII on this day in history, 22nd February 1511, when their 52 day old baby boy, Henry, Duke of Cornwall, died.
Henry, Duke of Cornwall, was born in the early hours of the 1st January 1511, New Year's Day, and his birth was celebrated with bonfires, wine flowing through the streets of London, cannons firing, pageants, banqueting and an extravagant joust at Westminster which was said to be "the third most expensive spectacle of Henry's long reign". Henry VIII had a son and heir and he was going to celebrate in style.
The little boy was baptised at the Chapel of the Observant Friars at Richmond, being named 'Henry' after his father and grandfather. His godfathers were William Warham, the Archbishop of Canterbury, and the French King, Louis XII, who did not attend but sent a golden cup and salt as christening gifts. Margaret of Austria was chosen as his godmother, although she also did not attend.
Little Prince Hal was cared for by Elizabeth Poyntz and a staff which included a physician, yeomen, grooms and four rockers to rock the royal cradle. Just fifty two days after his birth, Henry was dead. We do not know what caused his death but it was unexpected. Perhaps it was SIDS (Sudden Infant Death Syndrome or Cot Death). It was a tragedy and little did Catherine of Aragon realise that this loss would ultimately lead to the end of her marriage and little did Henry VIII realise that he would not have another living son and heir until October 1537 – a long wait!
You can read more about little Henry's birth and the celebrations involved in my article Birth of Henry, Duke of Cornwall – New Year's Day 1511 and you can read all about Catherine of Aragon's pregnancies in my article The Pregnancies of Anne Boleyn and Catherine of Aragon
Notes and Sources
Catherine of Aragon: Henry's Spanish Queen, Giles Tremlett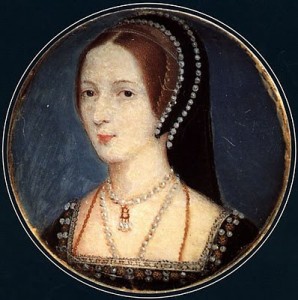 Also on this day in history…
1540 – Mary of Guise (Marie de Guise), consort of James V, crowned Queen of Scotland at Holyrood Abbey
1665 – Death of miniaturist John Hoskins – Hoskins painted a miniature of Anne Boleyn (see image) which was said to be copied "from an ancient original".
Eric Ives believes that Hoskins had access to an earlier image, probably the same image that the NPG portrait is based on and wonders if the miniature and portrait are actually based on a lost Holbein because in 1590 Lord Lumley owned a full-length portrait of Anne Boleyn and we know that it existed as late as 1773. Whatever the original inspiration for the Hoskins miniature, Ives believes that "it is the best depiction of Anne we are ever likely to have, failing the discovery of new material". Read more in my article "Anne Boleyn Portraits – Which is the True Face of Anne Boleyn?"