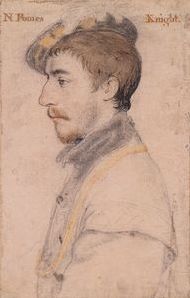 On 21st August 1535, Henry VIII and his second wife Anne Boleyn visited Acton Court, in Iron Acton, south Gloucestershire, as part of their progress to the south-west.
Acton Court was the home of Sir Nicholas Poyntz, a man who was known for his support of religious reform. In preparation for the royal visit, Poyntz added an entire new wing of state apartments to Acton Court, a moated manor house, for the exclusive use of the king and queen. He decked it out with the latest luxury items, such as Venetian glass, and continental furnishings, and modelled the rooms on Hampton Court Palace. The wing was built so quickly (within nine months) that it didn't have any foundations!
You can read more about Henry and Anne's visit to Acton Court in Nasim Tadghighi's article Acton Court, Henry VIII and Anne Boleyn – The Royal Progress of 1535, which includes a run-down on a talk by David Starkey. You can also find out more about Acton Court at www.actoncourt.com
The royal couple also visited Little Sodbury Manor, the home of the Walsh family who were also pro-Reform, on their progress – click here to read more.