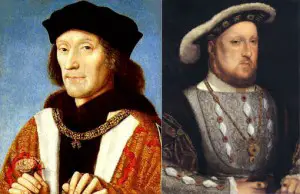 At Richmond Palace, at 11pm on Saturday 21st April 1509, King Henry VII died at the age of fifty-two. It was not a sudden death, the King had been ill for some time and had prepared himself for death. His biographer, Thomas Penn, describes how the King "made an exemplary death",1 kissing the crucifix, beating it against his chest and then holding a taper to light his path as he slipped away.
Henry VII's death was kept secret was kept secret for a couple of days and then it was announced to the Knights of the Garter at their annual St George's Day Feast on 23rd April and then to the public on 24th April. Henry VII's successor was his second son, Henry, the spare who had risen to heir on the death of his older brother, Arthur, in 1502. The new king was just two months short of his eighteenth birthday and was a strapping lad of 6′ 3″. There were high hopes for this new king, this Renaissance prince.
Here is a contemporary description of him:
"The King tilted against many, stoutly and valorously. According to their own observation and the report of others, King Henry was not only very expert in arms and of great valour, and most eminent for his personal endowments, but so gifted and adorned with mental accomplishments, that they believed him to have few equals in the world. He spoke English, French, and Latin, understood Italian well, played on almost every instrument, sang and composed fairly, was prudent, sage, and free from every vice, and so good and affectionate a friend to the Signory, that no ultramontane sovereign ever surpassed him in that respect."2
Henry VIII was crowned King on 24th June 1509, in a joint coronation with his new bride, Catherine of Aragon.
The King is dead, long live the King!
Notes and Sources
Penn, Thomas (2012) Winter King, Penguin, p333-351
Calendar of State Papers Relating to English Affairs in the Archives of Venice, Volume 2, 614