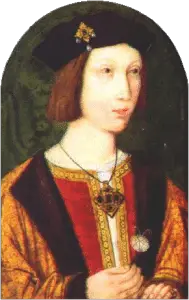 On this day in history, Elizabeth of York, wife of King Henry VII, did her duty as queen consort and gave the king a healthy son. She did if first time too!
Yes, on 20th September 1486, just "afore one o'clock after midnight", Elizabeth gave birth to a baby boy at St. Swithun's Priory in Winchester. He was baptised four days later at Winchester Cathedral and was named Arthur after the legendary King Arthur whose castle of Camelot was said to be in Winchester.
There were high hopes for Arthur and he was made Prince of Wales in 1489. He married Catherine of Aragon, daughter of the renowned Reyes Católicos (Catholic Monarchs) of Spain, Isabella I of Castile and Ferdinand II of Aragon, in November 1501 but he died on 2nd April 1502.
Elizabeth gave Henry VII seven (possibly eight) children in all, although only four survived childhood – Arthur, Margaret, Henry and Mary – and Arthur died at the age of fifteen. She died in 1503, a few days after giving birth to a daughter who also died.
Here are some links to find out more about Elizabeth of York and Arthur Tudor: