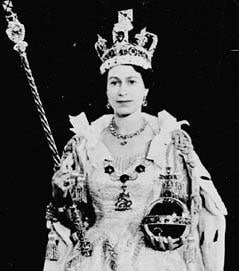 I know it's not Tudor related but for all those interested in the British monarchy and Commonwealth, Queen Elizabeth II was crowned at Westminster Abbey on this day in 1953 making today her 60th anniversary or Diamond Jubilee.
You can find out more about her coronation at www.thediamondjubilee.org but here are some facts:
The Queen travelled from Buckingham Palace to Westminster Abbey in the beautiful Gold State which was commissioned by George III in 1762 and designed by designed by William Chambers (1723–96), It weighs almost four tonnes, measures more than seven metres in length, and requires eight horses to draw it. It is on display at the Royal Mews, Buckingham Palace and you can find out more about it at http://www.royalcollection.org.uk/exhibitions/the-queen039s-coronation-1953/the-gold-state-coach
The Coronation ceremony has 6 basic phases: the recognition, the oath, the anointing, the crowning, the enthronement and the homage. You can find out more about it at http://www.thediamondjubilee.org/coronation-ceremony-and-regalia and you can read the Coronation Oath at http://www.thediamondjubilee.org/coronation-oath
The Coronation ceremony has been taking place at Westminster Abbey for over 900 years. William the Conqueror was the first King to be crowned there in 1066.
37 coronations have taken place in Westminster Abbey since 1066.
The monarch is usually crowned by the Archbishop of Canterbury.
Queen Elizabeth II was twenty-seven years old at her coronation and is now eighty-seven years old.
27 million people watched the Coronation live on TV and 11 million listened to it on the radio.
Elizabeth II is the second longest reigning monarch, behind Queen Victoria who reigned for 63 years.
@BritishMonarchy and @wabbey will be re-living the Coronation on Twitter throughout the day today.
Here is a video about Elizabeth II's coronation with footage of the Coronation.