Posted By Claire on September 12, 2017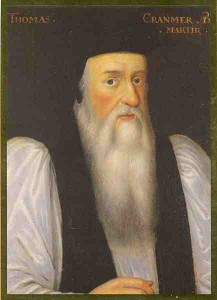 On this day in history, Thursday 12th September 1555, Thomas Cranmer, Archbishop of Canterbury, was tried for heresy at the University Church of St Mary the Virgin at Oxford.
The court was presided over by James Brooks, Bishop of Gloucester and the representative of the Pope, and Dr Martin and Dr Storey, Queen Mary I's commissioners (or proctors) and doctors of the law. Cranmer was charged with two main offences or doctrinal errors: repudiating papal authority and denying transubstantiation, but he refused to recognise or acknowledge the court.