12 February 1554 – The end of Lady Jane Grey and Lord Guildford Dudley
Posted By Claire on February 12, 2016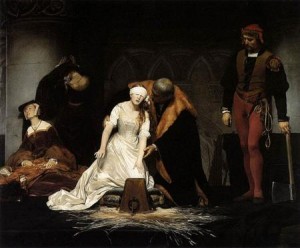 . On this day in history in the reign of Queen Mary I, 12th February 1554, Lady Jane Grey and her husband, Lord Guildford Dudley, were executed for treason: Guildford on Tower Hill and Jane at the Tower of London.
Jane and Guildford had been found guilty of treason, along with Guildford's brothers Ambrose and Henry, and Archbishop Thomas Cranmer, at a public trial at London's Guildhall on 13th November 1553. The men were sentenced to be hanged, drawn and quartered, and Jane was sentenced to be burned alive or beheaded. Ambrose and Henry Dudley escaped death, but Cranmer was burned at the stake for heresy in March 1556 and Guildford and Jane were executed shortly after Wyatt's Rebellion, a rebellion which Jane's father, Henry, Duke of Suffolk, was involved in.
Lady Jane Grey was only around sixteen years of age when she was executed and Guildford was a similar age, or perhaps a bit older. They both died with dignity and in the reformed faith. They were buried in the Chapel of St Peter ad Vincula at the Tower of London.
You can read more about their executions in my article Remembering Lady Jane Grey and Guildford Dudley and you can read a primary source account of their executions in The Executions of Lady Jane Grey and Lord Guildford Dudley: A Primary Source Account. I've also written an article Gillyflowers for Lord Guildford Dudley
If you're interested in reading more about Jane and Guildford's relationship then I'd recommend 'Loving of my Husband': Jane and Guildford Dudley, an article by Christine Hartweg.
Today is also the anniversary of the death of Blanche Parry, Chief Gentlewoman of the Privy Chamber of Elizabeth I, at the age of 82. Click here to read more about her.