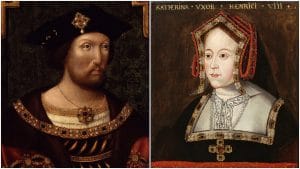 On this day in history, 11th June 1509, just over seven weeks after he'd become king, seventeen-year-old Henry VIII married twenty-three-year-old Catherine of Aragon (Catalina de Aragón), daughter of Isabella I of Castile and Ferdinand II of Aragon, in the queen's closet at Greenwich Palace.
The wedding ceremony was a private and low-key affair as the king was in the middle of planning a lavish joint coronation for himself and Catherine. The coronation was due to take place on 24th June, the Feast of St John and also Midsummer's Day, at Westminster Abbey.
Catherine of Aragon was, of course, the first of six wives for Henry VIII. Henry was her second husband; she'd previously been married to Henry's brother, Arthur, Prince of Wales, but he had died six months into their marriage and she'd been a widow for seven years. Henry VIII went on to have his marriage to Catherine annulled in 1533 after a six year quest for an annulment.
Click here to read more about Henry VIII, Catherine of Aragon and their wedding.