4 June 1536 – Jane Seymour is officially proclaimed queen
Posted By Claire on June 4, 2018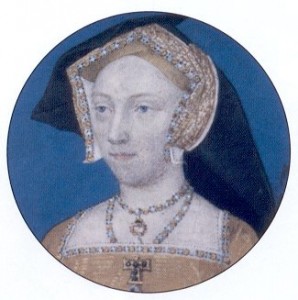 On this day in history, Sunday 4th June 1536, five days after her marriage to King Henry VIII and just over two weeks after the execution of her predecessor, Jane Seymour was officially proclaimed queen at Greenwich. Chronicler and Windsor Herald Charles Wriothesley recorded:
"Also the 4th daie of June, being Whitsoundaie, the said Jane Seymor was proclaymed Queene at Greenewych, and went in procession, after the King, with a great traine of ladies followinge after her, and also ofred at masse as Queen, and began her howsehold that daie, dyning in her chamber of presence under the cloath of estate."
Jane had already appeared in public as queen. Sir John Russell, in a letter to Lord Lisle, recorded that on 2nd June 1536, at Greenwich, "the Queen sat abroad as Queen." It is hard to believe that this was only just over a month after the arrests of Queen Anne Boleyn and the five men brought down with her. Things moved incredibly fast, and extremely brutally, that year.
Of course, a new queen needed a household. If you remember, I wrote about Queen Anne Boleyn's household being broken up on 13th May 1536 and her staff discharged. Well, some of Anne's household were lucky enough to gain employment in Queen Jane's household. Those who served both Anne and Jane included William Coffin, Anne's master of the horse; Sir Edward Baynton, Anne's vice chamberlain; John Smith, Anne's surveyor; Jane Boleyn, Lady Rochford, Anne's sister-in-law; Anne Gainsford, Lady Zouche; Bess Holland, and Margery Horsman. I wonder how they felt about this.
Also on this day in history, 4th June 1550, Robert Dudley married Amy Robsart at the royal palace of Sheen. Click here to read more.
Notes and Sources
Wriothesley, Charles (1875) A chronicle of England during the reigns of the Tudors, from A.D. 1485 to 1559, Volume 1, Camden Society, p. 43-44.