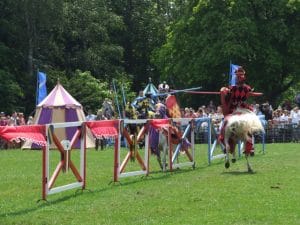 On this day in history, 10th March 1524, thirty-two-year-old King Henry VIII suffered a jousting accident. The king had forgotten to lower the visor of his headpiece and was struck by his good friend and brother-in-law, Charles Brandon, Duke of Suffolk, on the brow.
It could have been a very serious accident "for the Duke's spear broke all to splinters and pushed the King's visor or barbet so far back by the counter blow that all the King's headpiece was full of splinters". A Frenchman was killed in a joust against his brother at the Field of Cloth of Gold in 1520, Courtier Sir Francis Bryan lost an eye in the Shrovetide joust of 1526, and Henry II of France died in 1559 a few days after his opponent's lance struck his helmet and a long splinter pierced his eye and penetrated his brain. People have even been killed re-enacting jousting; in 2007 a professional jousting re-enactor was killed after a splinter sheared off a 7ft wooden lance and went through his eye and brain while filming an episode of Time Team. Henry VIII was lucky to survive the accident.
Henry VIII also suffered a jousting accident in January 1536 – click here to read more about that.
Picture: Jousting at Leeds Castle © Copyright Peter Lelliott and licensed for reuse under this Creative Commons Licence, Geograph.org.uk.