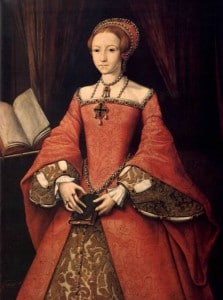 On this day in history, 1st July 1536, Parliament declared that Henry VIII's two daughters, Mary and Elizabeth, were illegitimate. This meant that the King had no legitimate children, just three bastards, so the pressure was now on the King's new wife, his third wife Jane Seymour, to provide a legitimate heir, and preferably a male one.
Trivia: The very first Parliament of Mary's reign passed an act which overturned the annulment of Mary's parents' marriage, making her legitimate. Elizabeth, however, never overturned her parents' annulment or made herself legitimate.
Also on this day in history:-
1st July 1535 – The trial of Thomas More began. He was found guilty under the 1534 Treason Act and sentenced to death.
1st July 1543 – Treaties of Greenwich signed – In these treaties between England and Scotland, it was agreed that Prince Edward would marry Mary Queen of Scots.