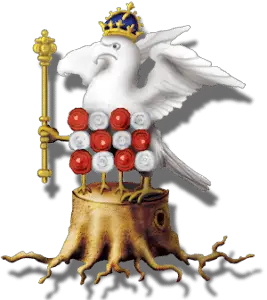 Leanda de Lisle has just published a post on her blog about how Tamsin Lewis, an expert in Tudor music, has matched the lyrics of The White Falcon, a ballad performed at Anne Boleyn's coronation procession on 31st May 1533, with a Tudor tune. You can read more about this news in Leanda's article – click here.
What is lovely is that the song is going to be performed by 60 children from schools in Stepney Green and Whitechapel on a float.
Here are the lyrics to The White Falcon, which was written by Nicholas Udall:
This White Falcon,
Rare and geason,
This bird shineth so bright;
Of all that are,
No bird compare
May with this Falcon White.
The virtues all,
No man mortal,
Of this bird can write.
No man earthly
Enough truly
Can praise this Falcon White.
Who will express
Great gentleness
To be in any wight;
He will not miss,
But call him this
The gentle Falcon White.
This gentle bird
As white as curd
Shineth both day and night;
Nor far ne near
Is any peer
Unto this Falcon White,
Of body small.
Of power regal,
She is, and sharp of sight ;
Of courage hault
No manner fault
Is in this Falcon White,
In chastity,
Excelleth she,
Most like a virgin bright:
And worthy is
To live in bliss
Always this Falcon White.
But now to take
And use her make
Is time, as troth is plight;
That she may bring
Fruit according
For such a Falcon White.
And where by wrong,
She hath fleen long,
Uncertain where to light;
Herself repose
Upon the Rose,
Now may this Falcon White.
Whereon to rest,
And build her nest;
GOD grant her, most of might!
That England may
Rejoice alway
In this same Falcon White.
You can read this verse and other verses written by Nicholas Udall for Anne Boleyn's coronation celebrations in An English Garner: Ingatherings from our History and Literature by Edward Arber page 52 onwards – click here to read online.
The report that Leanda quotes from can be found on The Times website, but you can only read all of it if you are a subscriber – Doomed queen Anne Boleyn's wedding song comes back to life 500 years on. Unfortunately, they call it a wedding song rather than a coronation song!