Watch the Lady by Elizabeth Fremantle
Posted By Book Reviewer on August 27, 2023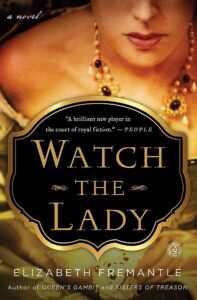 I loved Elizabeth Fremantle's previous Tudor novels, Queen's Gambit and Sisters of Treason, so was over the moon when a review copy of Watch the Lady landed on my doorstep, particularly as it was about a woman who isn't usually a heroine of historical fiction: Penelope Devereux.
If you don't know, Penelope Devereux was the daughter of Walter Devereux, 1st Earl of Essex, and his wife Lettice. Lettice was the granddaughter of Mary Boleyn, Anne Boleyn's sister, and was also the woman known as "the she-wolf" by Elizabeth I due to the fact that she went on to secretly marry Elizabeth's favourite, Robert Dudley. Penelope was also the sister of Robert Devereux, 2nd Earl of Essex (who also became a favourite of Elizabeth I but then came to a sticky end), and she has gone down in history as a legendary beauty and for being the muse of poet Philip Sidney.
One of the signs of a good historical novel for me is that it piques my interest to find out more about the real person behind the fiction. After I read Watch the Lady I just couldn't help myself from researching Penelope Devereux. I don't want to spoil the story, if you don't know about her, but she's a fascinating lady in that she didn't let an unhappy marriage get in the way of what she wanted out of life. Unusually for a woman of that time, while she was still married she took a lover and had a long-term love affair, including having children by her lover. She lived on her own terms and must have been an incredibly strong character.
Elizabeth Fremantle's novel takes the reader through Penelope's life, from 1581 when she is first sent to court to serve Elizabeth I, to the summer of 1603 after the death of Elizabeth I and the accession of James I. Fremantle explains in the "Author's Note" that she has "adhered closely to historical fact" in telling Penelope's story, and drew on primary sources where she could, but then explains where she has filled in the blanks or used "pure speculation". For example, there is no way of knowing why Penelope's husband did nothing about her love affair and so Fremantle imagines a reason for his acquiescence, something that works brilliantly in the story but which is pure fiction.
I often find narration using the present tense with third person point of view grating in fiction, but I actually only noticed it towards the end of this novel. The novel just seemed to flow and I think the present tense worked in giving a sense of immediacy, in transporting us to Penelope's time and location. The third person POV also allowed us to see events from other characters' perspectives and I particularly enjoyed scenes narrated from Robert Cecil's perspective, especially when he became rattled by Penelope! I also loved the characterization of Robert Devereux, which gave the reader insight into why he did what he did in 1601 and what led him to the block. Fiction allows a writer to explore the possible "why"s behind someone's actions and Fremantle's depiction of Devereux seemed spot on.
Once again (I've been lucky recently!), reading this book put me in a quandary – I was desperate to finish it but I also didn't want my journey with Penelope to end. I do hope that Elizabeth Fremantle is busy on her next book!
Blurb:
From "a brilliant new player in the court of royal fiction" (People), comes the mesmerizing story of Lady Penelope Devereux—the daring young beauty in the Tudor court, who inspired Sir Philip Sidney's famous sonnets even while she plotted against Queen Elizabeth.
Penelope Devereux arrives at Queen Elizabeth's court where she and her brother, the Earl of Essex, are drawn into the aging Queen's favor. Young and naïve, Penelope, though promised elsewhere, falls in love with Philip Sidney who pours his heartbreak into the now classic sonnet series Astrophil and Stella. But Penelope is soon married off to a man who loathes her. Never fainthearted, she chooses her moment and strikes a deal with her husband: after she gives birth to two sons, she will be free to live as she chooses, with whom she chooses. But she is to discover that the course of true love is never smooth.
Meanwhile Robert Cecil, ever loyal to Elizabeth, has his eye on Penelope and her brother. Although it seems the Earl of Essex can do no wrong in the eyes of the Queen, as his influence grows, so his enemies gather. Penelope must draw on all her political savvy to save her brother from his own ballooning ambition and Cecil's trap, while daring to plan for an event it is treason even to think about.
Unfolding over the course of two decades and told from the perspectives of Penelope and her greatest enemy, the devious politician Cecil, Watch the Lady chronicles the last gasps of Elizabeth's reign, and the deadly scramble for power in a dying dynasty.
US
Paperback: 560 pages (also available as a kindle book)
Publisher: Simon & Schuster (June 9, 2015)
Language: English
ISBN-10: 1476703124
ISBN-13: 978-1476703121
ASIN:  B00P434DPG (This is my affiliate link for Amazon.com and I may receive a small payment if you buy the book through this link).
Available from Amazon.com or your usual bookstore.
UK
Hardcover: 496 pages (also available as a kindle book)
Publisher: Michael Joseph (18 Jun. 2015)
Language: English
ISBN-10: 071817710X
ISBN-13: 978-0718177102
Available from Amazon UK or your usual bookstore.
Originally posted on June 15, 2015.