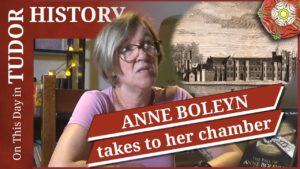 On this day in Tudor history, 26th August 1533, Queen Anne Boleyn, second wife of King Henry VIII, prepared for the birth of her first child by "taking her chamber" at Greenwich Palace. This child was of course the future Queen Elizabeth I.
"Taking her chamber" was common practice in Tudor England, and in today's talk, I explain all of the rituals and traditions involved, as well as describing what Anne Boleyn's chamber would have been like.
As I sit here working in a rather hot and stuffy office, I'm thankful that I can get up, go out of the room and get some fresh air, while all Queen Anne Boleyn could do is put her face to the slightly open window – poor woman!
This video is one of my "on this day in Tudor history" videos which I upload to my YouTube channel on a daily basis. I also have a "Questions about Anne Boleyn" series of videos, and lots of other videos, including my "Tudor Cooking with Claire" series. You can view them at youtube.com/AnneBoleynFiles
If you prefer audio to video, you can listen to my podcast here.