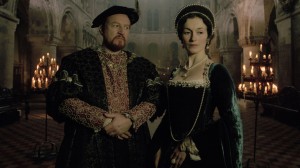 Thank you so much to Tamise from The Lady Jane Grey Reference Guide for alerting me to the announcement regarding the airing of the BBC2 programme on Anne Boleyn. I then went to the BBC2 Media Centre and they have announced the dates and times for the programmes on Anne Boleyn and Thomas Cromwell:
The Last Days of Anne Boleyn is on BBC2 at 9pm to 10pm on Thursday 23rd May.
Henry VIII's Law Enforcer: The Rise and Fall of Thomas Cromwell is on BBC2 at 9pm to 10pm on Friday 24th May.
See http://www.bbc.co.uk/programmes/p015vkbl/features/programmes for more details on BBC2's season of Tudor programmes.
No details are given yet for the other programmes.