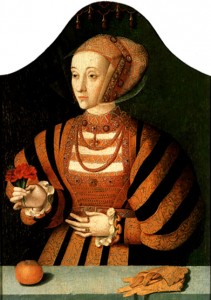 Here's this week's round up of what's been going on at The Anne Boleyn Files and in the world of Tudor:-
Twelfth Night and Epiphany – Epiphany, which is still celebrated today in many Catholic countries around the world, was celebrated in Tudor times. Read my "Happy Twelfth Night!" post for more info.
Anne Boleyn Dresses – At time of writing, we have had 403 votes on the Anne Boleyn Dresses poll. Thank you so much for taking the time to vote. It looks like Kris will be making the Marquess of Pembroke dress first but don't worry, she will be making the others too!
Henry VIII Marries Anne of Cleves – Wednesday marked the 470th anniversary of Henry VIII's marriage to Anne of Cleves. Many people neglect Anne of Cleves, seeing her as the ugly wife who didn't last long, but we need to give her credit for her intelligence, after all, she struck a winning deal with Henry and lived a good life. Anne was a good friend of both Henry's daughters and her influence on them should not be ignored. Read some Anne of Cleves facts in "Henry VIII Marries Anne of Cleves".
RIP Catherine of Aragon – Another anniversary! Yesterday marked the 474th anniversary of the death of Catherine of Aragon. This is another lady who is often forgotten or seen as just the wife that Henry wanted to divorce. There is no way that this woman should be ignored. She was married to Henry VIII for nearly 24 years, was the daughter of Isabella and Ferdinand of Spain, was the mother of Mary I and was a popular and well-loved queen. She was one tough cookie and I admire her strength of character.

Anne Boleyn Post Earrings

New Earrings – We've just added new Anne Boleyn Post Earrings, featuring a beautiful portrait of Anne Boleyn, and new Anne of Cleves silver earrings. Both are handcrafted by artist and jeweller Tiffini Elektra (tartx) and are available in our Anne Boleyn Jewellery and Six Wives Jewelry sections.

Book Reviews – I made the most of the Christmas break by reading some great historical fiction and you can read my reviews of "Virgin" by Robin Maxwell and our Book of the Month "The Queen's Governess" by Karen Harper over at our Tudor Book Review Site. On that site, Anne Boleyn Files visitor Kelly Gartland has also written a review of Alison Weir's "The Lady Elizabeth". Thanks Kelly!
The Elizabeth Files – This week, Karen Harper (author of "The Queen's Governess", "The Last Boleyn" and "The Queen Elizabeth Mystery Series") has written a wonderful guest post on Kat Ashley, Elizabeth I's governess, friend and confidante. Click here to read it now. Also, in "New Book Reviews and Top Elizabeth I Books", I want you to tell me what your favourite Elizabeth I fiction and non-fiction books are. Please take the time to leave a comment on that article – click here.
Natalie Dormer – I loved Natalie Dormer's Anne Boleyn as I loved the way she made her feisty, passionate, hot tempered but with a certain vulnerability. If you would like to thank Natalie or send her a message or fanart, now is your opportunity. Laura over at Admiring Natalie Dormer has set up the 2010 Scrapbook Project and wants you to send a message, letter, fanart, poems, songs…whatever you like really, and then she will collate them into a scrapbook and send it to Natalie. Click here for full details of Laura's project.
Anne Boleyn returns for Season 4 of The Tudors – Yes, you read that right! I'm not sure whether you have already heard the rumours, but apparently there will be a dream sequence at the end of the series featuring Natalie Dormer as Anne Boleyn. It may be just a rumour but I hope it's true.
Henry 8.0 – I did miss these comedy clips over Christmas but you'll be pleased to know that they've done a new one this week. Henry is on the phone to an I.T. helpline – click here to watch "Straight Outta Greensleeves".
The Friday BBC History Magazine Quiz – My old A Level history teacher Mrs Sagi would be so proud of me getting the Diet of Worms question correct! 5 out of 7 for me, not bad!
The Anne Boleyn Experience 2010 – At time of writing, there are only 128 days to go until our special Anne Boleyn focused trip in May. I am quite literally counting the days! To stay at Anne Boleyn's home, Hever Castle, and to spend "Anne Boleyn Day" at the Tower of London with a group of Anne Boleyn fans will be the experience of a lifetime. If you haven't booked then please do so soon – we have a few rooms left. Click here or on the banner below to browse the tour site and reserve your space today. I'm dying to meet you!