The Tudor Tutor: Your Cheeky Guide to the Tudor Dynasty by Barb Alexander
Posted By Book Reviewer on August 24, 2023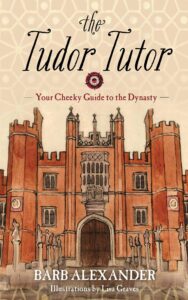 Congratulations to Barb Alexander, who you may know from The Tudor Tutor blog, on the re-release of her book The Tudor Tutor: Your Cheeky Guide to the Tudor Dynasty. Barb originally self-published her book, back in 2013, but is has been re-released by Skyhorse Publishing with beautiful colourful illustrations by Lisa Graves, author and illustrator of History's Witches.
In my review of Barb's book back in 2013 I said "The Tudor Tutor book is an entertaining yet highly accurate guide to this larger-than-life royal dynasty. Barb is spot-on with her descriptions of these monarchs and their reigns, and injects humor to keep readers of all ages entertained. I'd highly recommend this book to anyone with a love of Tudor history, and also to parents and teachers who want to bring the period to life for their children" and I still stand by that. Barb is a teacher, a Tudor history buff and someone with a quick wit and wicked sense of humour. This is a winning combination, particularly when combined with Lisa's beautiful illustrations.
Barb skilfully sums up the Tudor monarchs in a pocket-sized guide, giving readers pertinent information in an easy-to-read and highly entertaining way. She has just the right amount of "snark" and I found myself chuckling out loud at some of her comments on Henry VIII. Her style makes the book perfect for "newbies" – you know, those people you want to indoctrinate! – students, children and those who want a quick introduction to the Tudor dynasty. This is no dry, academic history book, and its information can be relied on too. Entertaining and accurate, what a relief!
The Tudor Tutor: Your Cheeky Guide to the Tudor Dynasty also includes a full list of sources used (primary and secondary) and a useful Tudor timeline.
The Tudor Tutor: Your Cheeky Guide to the Tudor Dynasty will be released tomorrow (3 November 2015) as a hardback and kindle book, and can be pre-ordered now.
Blurb:
From the bloody Wars of the Roses to Queen Elizabeth I's iconic rule, the Tudor Dynasty was a period of sex, scandal, and intrigue. Monarchs such as Henry VIII and Queen Elizabeth I have become a part of modern pop culture, resulting in endless parodies, satires, rumors, and urban legends that grace our television screens. But as with all urban legends and parodies, facts surrounding the lives of these rulers are greatly exaggerated. In this entertaining guide, Barb Alexander serves to debunk those rumors and educate you about the dynasty.
History doesn't have to be dry, boring, and difficult to read. As an educator, Barb knows exactly how to engage an audience. This pocket-sized guide is not only informative, but also filled with cheek, snark, and wit. With 50 beautiful illustrations that depict Tudor Monarchs and key players during their rule, this book is guaranteed to garner a chuckle or two. So sit back, relax, and enjoy the lesson. Before long, you'll be sharing Tudor history facts that will be sure to impress your less-informed peers.
Hardcover: 160 pages
Publisher: Skyhorse Publishing (November 3, 2015)
Language: English
ISBN-10: 163450402X
ISBN-13: 978-1634504027
ASIN:  B0175P7P5A (This is my affiliate link for Amazon.com and I may receive a small payment if you buy the book through this link).
Available from Amazon.com, Amazon UK or your usual bookstore.
Originally posted on November 2, 2015.