The Tapestry by Nancy Bilyeau
Posted By Book Reviewer on August 31, 2023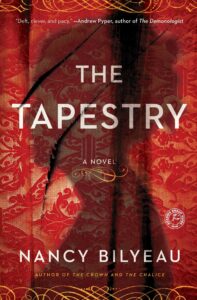 The Tapestry is the final book in Nancy Bilyeau's Joanna Stafford trilogy and it is a fitting end to a wonderful series.
I was lucky to discover the trilogy late on, which meant that I could read The Crown, The Chalice and The Tapestry one after the other instead of gnashing my teeth and pacing waiting for the next book to be released! Seriously, these books had me hooked and although The Tapestry had a satisfying end, tying up any loose ends and leaving the heroine with a suitably happy ending, I'm disappointed that Joanna's journey is over.
Anyway, back to The Tapestry…
After the excitement and dangers she encountered in The Chalice, Joanna has settled down once again in Dartford, hoping to earn a living weaving tapestries. However, her plans for a quiet life away from the intrigues of court are wrecked when she is called to court to meet the King. Henry VIII is impressed with the tapestry Joanna produced for Anne of Cleves as a wedding present for the King and wants her to work for him. Joanna cannot exactly refuse a king, so she sets off for Whitehall, where she immediately encounters danger.
The King is married to Anne of Cleves but unhappily, something that Joanna is partly responsible for, and he has set his sights on Joanna's friend and relative Catherine Howard. Joanna feels its her duty to protect Catherine but her own life is in danger from an unknown assailant. Can she protect herself and Catherine? Who can she trust in a court full of people with hidden agendas?
The Tapestry takes Joanna and the reader from Dartford to Whitehall, to France, Flanders and then on to a famine-ravished and troubled Germany. It brings Joanna into contact with famous Tudor characters like Hans Holbein the Younger, Thomas Cromwell and Thomas Culpeper, as she tries to protect her friend and, at the same time, tries to find the man she was supposed to marry: Edmund Sommerville, while also struggling with her feelings for the grieving Geoffrey Scovill who has always been her protector and true friend. It really is a whirlwind adventure and what I loved about this final book is that it brings closure to Joanna's story in that our heroine finally has to figure out what she wants and needs in her life. She has to struggle through her confusion and examine her feelings and faith.
The Tapestry is a wonderful book. I love Joanna as a main character, it's so refreshing to see the turbulent events of Henry VIII's reign through the eyes of a novice, someone who cared deeply about Henry VIII's destruction of the monasteries and the impact it had on England. Joanna's confusion and the dangers she encounters seem to mirror the upheaval of England at this time and at least someone has a happy ending in this book! The Tapestry, like Bilyeau's previous two books, is a historical thriller but it has a thread of romance running through it too and as a reader you are desperate for Joanna to have a fairytale happy ending, whether it's with Edmund, Geoffrey or as an independent woman finally finding her way in the world. I won't tell you how it ends but I was as content as Joanna was. Readers who've enjoyed The Crown and The Chalice will enjoy the ride of The Tapestry and those who read it accidentally, without reading the first two, will also enjoy it as a standalone thriller.
Blurb:
The next page-turner in the award-winning Joanna Stafford series takes place in the heart of the Tudor court, as the gutsy former novice risks everything to defy the most powerful men of her era.
After her priory in Dartford is closed—collateral damage in tyrannical King Henry VIII's quest to overthrow the Catholic Church—Joanna resolves to live a quiet and honorable life weaving tapestries, shunning dangerous quests and conspiracies. Until she is summoned to Whitehall Palace, where her tapestry weaving has drawn the King's attention.
Joanna is uncomfortable serving the King whom she has twice attempted to overthrow—unbeknownst to him. She fears for her life in a court bursting with hidden agendas and a casual disregard for the virtues she holds dear. And her suspicions are confirmed when an assassin attempts to kill her moments after arriving at Whitehall.
Struggling to stay ahead of her most formidable enemy yet, an unknown one, she becomes entangled in dangerous court politics. Her dear friend Catherine Howard is rumored to be one of the King's mistresses. Joanna is determined to protect young, beautiful, naïve Catherine from becoming the King's next wife and possibly, victim.
Set in a world of royal banquets and feasts, tournament jousts, ship voyages, and Tower Hill executions, this thrilling tale finds Joanna in her most dangerous situation yet, as she attempts to decide the life she wants to live: nun or wife, spy or subject, rebel or courtier. Joanna must finally choose her fate.
Hardcover: 400 pages
Publisher: Touchstone (March 24, 2015)
Language: English
ISBN-10: 1476756376
ISBN-13: 978-1476756370
ASIN: B00LD1ORV8 (This is my affiliate link for Amazon.com and I may receive a small payment if you buy the book through this link).
Available as an ebook, hardback and audio book from Amazon.com, Amazon UK or your usual bookstore.
Originally posted on April 27, 2015.