The Crown: A Novel by Nancy Bilyeau
Posted By Book Reviewer on September 2, 2023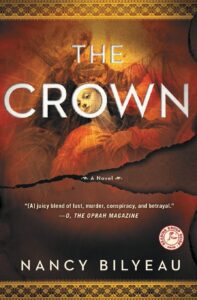 Nancy Bilyeau's The Crown is the first in a trilogy which has become known as the Joanna Stafford series. The books are set in Henry VIII's reign and the protagonist is Joanna Stafford, a Dominican nun who is also a member of the once favoured Stafford family. The trilogy consists of The Crown, The Chalice and the forthcoming The Tapestry, which comes out on 24 March.
I've actually had The Crown sitting on my kindle for well over a year but I kept forgetting about it. It wasn't until I saw The Chalice on offer on Amazon that I started reading the first one. As soon as I started it I was kicking myself for leaving it for so long. I got completely wrapped up in it and moved straight on to The Chalice when I finished it. Leaving it for so long does have its benefits though, I won't have long to wait for book 3 and can just move straight on to that.
I don't want to give away too many spoilers, so I'm only going to give a brief rundown on the story. Joanna Stafford leaves her home, the Dartford Priory, without permission when she hears that her beloved cousin and childhood friend Margaret Bulmer is being burned at the stake for heresy. This outing to London was always going to be a nightmare for Joanna, but she didn't know that it would lead to her being imprisoned in the Tower along with her father. To save her father from torture, and potential death, Joanna has to go back to her priory and locate an ancient relic that is said to have special powers. But this relic is not the only secret the priory is hiding and it's not long before something truly terrible happens there. Can Joanna find the relic in time to save her father? Will the priory be dissolved by Cromwell? Will the crime be solved?
The Crown has all the right ingredients for me. Firstly, it has lovable characters. Joanna is a wonderful character and I know that I'm going to enjoy getting to know her better in the subsequent books. She didn't grow up to be a nun, she served Katherine of Aragon at court for a short time before escaping court life and taking the veil. She is lovable in that she has an independent spirit and many flaws, but courage and a good heart. Other characters I loved included Brother Edmund and his sister, and the rather dashing (well, he sounds dashing!) Geoffrey Scoville. Secondly, it's thrilling, as every good thriller should be! Some books take a few chapters to get into, but this one was action-packed from the start. It is extremely well-paced and makes you keep turning those pages!
I also loved the different threads in the book – Joanna's past coming back to haunt her, her relationships with those at the priory being tested by her behaviour and her secret, Joanna's inner struggle with the secret she must keep and the work she must do for a man she does not like or trust, murder, faith, the history of the dissolution of the monasteries, corruption, mystery, ancient relics with magical powers… The only thing that did not sit well with me was the characterization of George Boleyn. I can't spoil the storyline by saying what his involvement is in the story, but I didn't like that bit. Obviously this is a novel, and a brilliant one at that, and Nancy Bilyeau does not make any claims about accuracy, so I'm not going to make too much of it. I just didn't like it because of the work I've done on George and his family. That's personal to me, though.
If you love historical fiction and enjoy a good mystery you really need to put this trilogy on your "to read" list. I'm not at all surprised that The Crown was shortlisted for the CWA Ellis Peters Dagger Award for historical fiction or that The Chalice was the winner of the Best Historical Mystery of 2013 at the Romantic Times Book Review Awards, such recognition is well-deserved.
Book Details
An astonishing debut in historical fiction, hailed as "part The Da Vinci Code, part The Other Boleyn Girl," (Woman's Day), The Crown follows one nun's dangerous quest to find an ancient relic during Cromwell's reign of terror.
Joanna Stafford, a Dominican nun, learns that her favorite cousin has been condemned by Henry VIII to be burned at the stake. Defying the rule of enclosure, Joanna leaves the priory to stand at her cousin's side. Arrested for interfering with the king's justice, Joanna, along with her father, is sent to the Tower of London.
While Joanna is in the Tower, the ruthless Bishop of Winchester forces her to spy for him: to save her father's life she must find an ancient relic—a crown so powerful, it may possess the ability to end the Reformation.
With Cromwell's troops threatening to shutter her priory, bright and bold Joanna must decide who she can trust so that she may save herself, her family, and her sacred way of life. This provocative story melds heart-stopping suspense with historical detail and brings to life the poignant dramas of women and men at a fascinating and critical moment in England's past.
Paperback: 448 pages
Publisher: Touchstone (September 4, 2012)
Language: English
ISBN-10: 9781451626865
ISBN-13: 978-1451626865
ASIN: B004U7GIQO (This is my affiliate link for Amazon.com and I may receive a small payment if you buy the book through this link).
Available from Amazon.com, Amazon UK and your usual bookstore.
Originally posted on March 13, 2015.